Expo & Sponsorship Sales: +1 707-305-1561
MilSat Symposium 2023 Has Concluded
SAVE THE DATE
Next year's events will take place at the same venue the week of Oct 21st, 2024. Satellite Innovation will be held on Monday and Tuesday, followed by MilSat Symposium on Wednesday and Thursday.
Please take the time to add it to your calendar.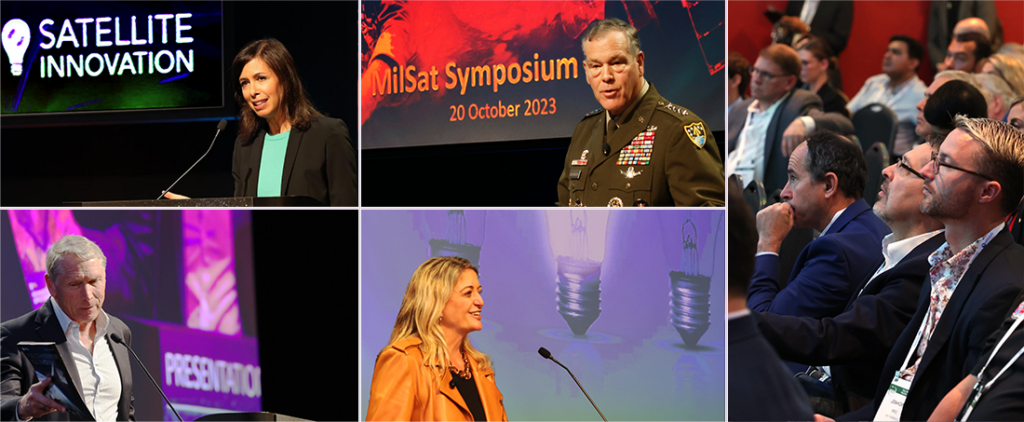 CONFERENCE CONTENT
Session recordings, presentation slides and event photography are available to attendees on the virtual platform .
Virtual access:
---
Pivot to New Space Defense Architecture
The upcoming MilSat Symposium 2023 aims to establish novel means of communication between national space defense and the industry. As outdated methods of contracting the creation of customized satellites, sensors, ground equipment, and software have become stagnant, it has become increasingly essential for the Department of Defense (DoD) and the industry to communicate openly. The MilSat Symposium strives to establish these new channels of communication by bringing together leaders from the commercial space industry and defense decision-makers.
Through sessions, keynote speeches, and technical discussions, influential experts will explore the most efficient and prompt solutions in developing and safeguarding crucial space assets. In addition to analyzing and discussing these solutions, the sessions will also scrutinize the financial, technical, and logistical challenges encountered by the Space Force, Space Command, and commercial suppliers. Discover how you can contribute most efficiently to a more adaptable and competent space defense community.
Preceding Speakers
---
What is Silicon Valley Space Week?
Silicon Valley Space Week (SVSW) is the amalgamation of Satellite Innovation, the MilSat Symposium and several important industry networking events. With the conferences taking place at the Computer History Museum in the heart of Silicon Valley, SVSW is a must-attend event for the satellite industry.
---
Benefit from technological breakthroughs instead of being blindsided.
600+ Decision Makers
Top-level members of the DoD responsible for procuring contracts will network with executives and entrepreneurs responsible for rolling out the most cutting edge technology available in the Satellite industry today.
120+ Speakers
Partners in the government and military will explain what steps you need to take to secure their business – often on panels with entrepreneurs and executives that are successfully doing so at scale. A merit-based, invite only speaker list ensures a strong line-up and focus on important industry topics from a diversity of perspectives.
60+ Exhibitors
Through delivery of comprehensive exhibition packages and a seamless experience for exhibitors and attendees, the MilSat Symposium provides unparalleled, intimate exposure to the decision makers you have been trying to meet with.
---
A program designed to keep you ahead
Technological breakthroughs meet DoD Innovation
The satellite industry has become a center of focus for national defense. Gain insight into the latest technologies affecting national defense strategy and learn what is coming next.
UP